Embracing Uncertainty In The Metaverse
August 24, 2023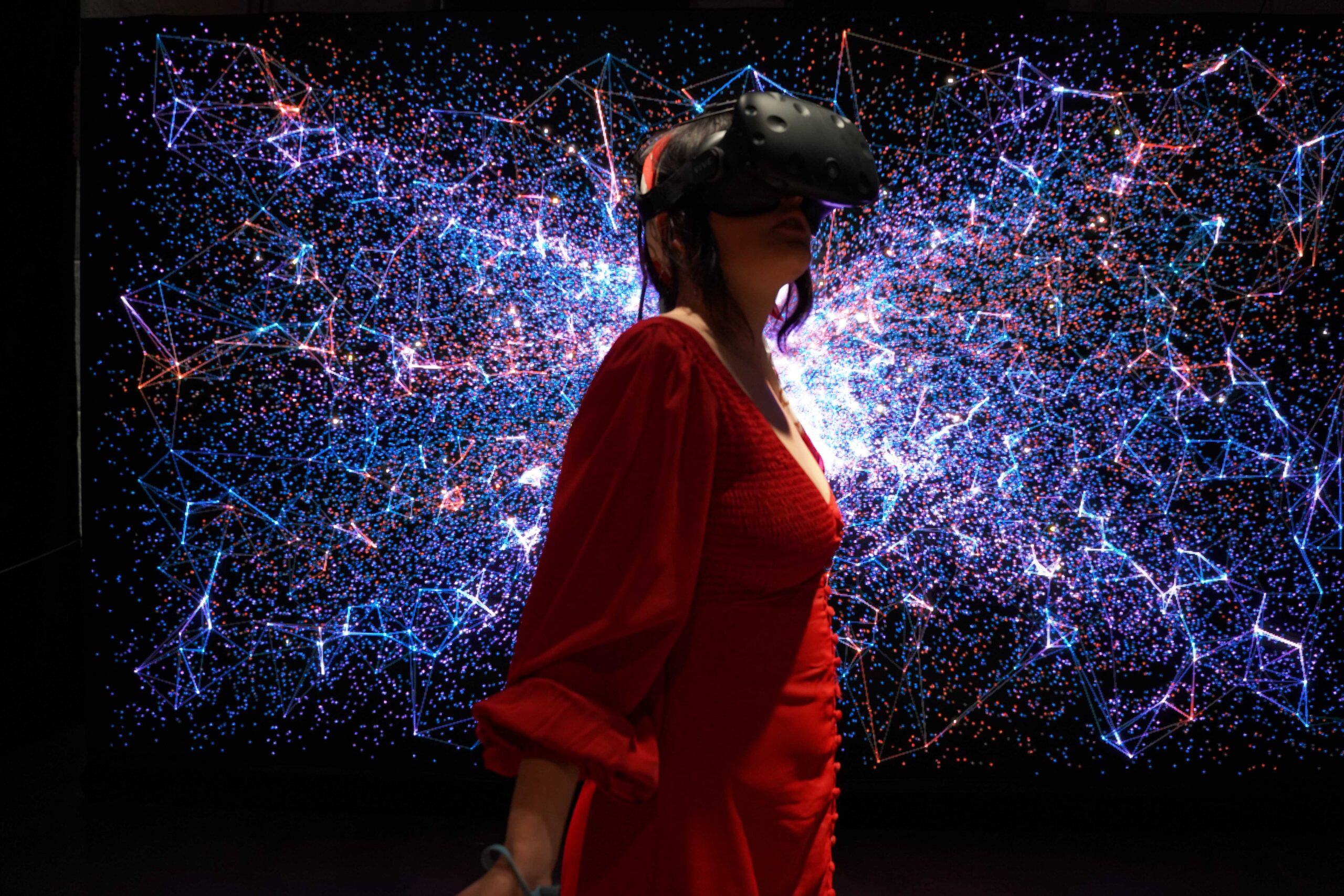 Why the metaverse lull is your brand's license to lean in.
From hype to ho-hum: the excitement, and in some cases agitation, around the metaverse has faded from its well-publicized peak in 2022. Compared to the flurry of activations, events and worlds that characterized the metaverse in its early incarnations, we've more recently seen brands pullback having lost patience, budget, and maybe even the stomach for exploring the still nascent technology. But rather than shy from the uncertainty, we believe that success in the metaverse is to be found in embracing the unknowns– so long as brands are clear-eyed about how they define "success."
Having recently delved into the murkiness of the metaverse ourselves at Envoy, we believe that the current potential of the metaverse requires a mindset of experimentation and the permission to lean into the uncertainties inherent of a place that currently defies categorization. Here, we'll dig into some of our key takeaways as it relates to experimenting in the metaverse and an approach to framing your brand's involvement as both an investment in your future and a demonstration of your brand's purpose and vision.
Defining The Metaverse
Functionally, there are many definitions of the metaverse. But we've found one of the better descriptions comes courtesy of The Drum.
"The metaverse – a three-dimensional, interactive virtual ecosystem containing a vast and growing number of specific experiences – is just one manifestation of web3."
It is no single application. It is no single place. It is, rather, an ecosystem of interactive experiences that is constantly evolving and expanding. And, strategically, we believe that the key to unlocking its potential is anchored in fusing the real and digital world in order to:  
1) Enable new experiences 
2) Enhance relationships, and 
3) Solve challenges in new ways
Where is the metaverse today?
As the hybrid technology transformation accelerated in response to the COVID pandemic, the spotlight moved to the possibilities that the metaverse could bring to life for people connecting and working in the digital world. Perhaps triggering the inflated expectation curve of the Gartner hype cycle a bit prematurely as people were desperate for options. Today, the metaverse is still a place of significant possibility but its current value is grounded in it being a constantly evolving playground for experimentation, play, and learning.
Brands– as big and traditional as Walmart and as small and scrappy as Alo Yoga– dove in, testing, developing, and activating across the metaverse in the hopes of jumping ahead and seeing immediate returns on their investments. However, as we're seeing, uncertainties around the current experience levers, audience adoption, and brand value combined with a global tightening economically has caused many brands to pull out or re-assess their involvement. 
A natural and somewhat expected result echoed in Gartner's graph as people grapple with the inflated expectations and limitations of current-day capabilities. Leaving most in the "wait and see" bucket as over 60% of US adults reporting they don't understand the purpose of the metaverse.
The fact is the metaverse is in its infancy. It's mostly hype, experimentation, and uncertainty. Let's cover why we think that's a good thing.
What we know (and what we don't… yet!)
1) Experience is everything
The first lens we suggest brands take to the metaverse is its potential role enabling new experiences. 
If the currency of Web2 was information, the currency of Web3 is experience. It's visceral. It's immersive. And it should be the primary lens through which to view the metaverse's potential. But to simply replicate real life experiences in a digital space misses the point. Experiences in the metaverse should bring something new to the table, adding value to the user in ways not possible in the physical world.
Where we see the most effective examples of enabling new experiences within the metaverse largely fall into three categories: gaming, socializing, and exclusivity.
Gaming, in applications like Fortnite, Axie Infinity, Minecraft, and Roblox, marks the largest segment of regular traffic in the metaverse—and it's not that close. Roblox alone accounts for 230M of the 400M active users of the metaverse each month. The simple answer behind gaming's success ties back to the idea of enabling new experiences. These social-forward, multiplayer games enable gamers to better connect, create, and play with one another than with traditional console gaming. The always-on worlds facilitate deeper relationships and provide more immersive storytelling—translating into dedicated fandom, increased gameplay, and interactions that go beyond the game itself. 60% of gamers have used the metaverse for non-gaming activities such as socializing and shopping.
In regards to social engagement, the metaverse's anonymity and ability to simulate more life-like moments help it to enable social interactions in entirely new ways for populations scattered across the world. 61% of Millennials and 56% of Gen Z adults reported interest in attending a live concert in the metaverse—and with a  reported audience size of 10.7 million for a recent Marshmellow concert in Fortnite it's clear that the format has promise. What this means for brands? Community engagement. Assuming your community are metaverse users…
Finally, early adoption is often synonymous with status. And as we saw with the volatility but popularity of NFTs, using the metaverse to unlock new sources of value for users was effective—if not short-lived. Brands that found the greatest success in helping build status were brands well-versed already within status culture. High fashion brands. Collectables. Hype. Gucci Garden, a Roblox experience, attracted over 20M users. And Dolce & Gabbana's first NFT series sold for a reported $5.7 million on luxury marketplace UNXD. 
What does this mean for your brand… 
Don't force new use cases on the metaverse, instead find ways to plug in to existing user patterns and value levers. Games. Community building. Appreciating and rewarding super fans. 
2) Enhance relationships
When dreaming of what the metaverse could be, people often picture the Ready Player One environments of always-on digital worlds where people hang out, go to school, interact, party, live their lives with one another. Lives filled with connections and relationships both personal and professional. But, as we stand today, there are simply too many gaps to overcome to realize that complete vision from technology-based gaps to age gaps within the user audiences.
Instead, where we see the metaverse best enhancing relationships centers around three categories: existing relationships, brand relationships, and interest-based communities.
Just as cell phones helped friends and families connect across time zones and continents at any hour; the metaverse has offered even deeper levels of connection that go well beyond voice. With gaming applications like Roblox or Fortnite, shared entertainment experiences demonstrate how the unique immersive worlds of the metaverse allow people to play in the same way only possible previously via in-person events. Similarly, work applications like Mozilla Hubs create dynamic and cooperative studios for teams to use in real-time. Cutting out the immense time and restrictions of coordinating in-person work for teams spread across the country or world.
The metaverse has also enhanced the relationships people have with brands. Previously the only way for brands to create environments for their audiences to inhabit was through in-person activations and store design. However, in the same way brands incorporate experience design with in-person spaces, they now have the opportunity to do the same in virtual worlds. It's not a matter of speaking at people anymore, but rather curating someone's experience and encouraging feelings through engaging digital design.
Finally, the metaverse offers an enhanced experience for those who create community around shared interests. Taking the niche pockets of Web 2.0 like Reddit and offering those people an opportunity to discuss, interact, play, and actually do the things they're passionate about—without meeting IRL. Niantic, as an industry leader, demonstrated that by layering a compelling game experience like Pokemon Go, fans and nonfans were able to create new relationships via this shared AR experience.
3) Solve challenges in new ways
The metaverse is not for replication. So brands that entered into it hoping to solve challenges in the same ways as before, but online, were met with blank stares and empty virtual showrooms.
However, by shifting the mindset to solving challenges in new ways or even seeing the metaverse's challenges as new brand opportunities, you start to encounter the brands that are still experimenting and finding success.
Home Depot recently launched an experience in Roblox where kids are able to participate in virtual workshops. While the idea of a kids workshop is not new to Home Depot, as they host similar events at their stores across the country, the placement of these workshops within the metaverse solves challenges they were having in a new way.
In Roblox, kids are free to roam the aisles of Home Depot, collecting supplies and empowering themselves to do it on their own. Kids are able to participate more frequently as the workshops in-store are only held once a month and require their parents or caregivers to physically drive to locations. The amount of kids able to participate is unlimited, no worries around running out of supplies.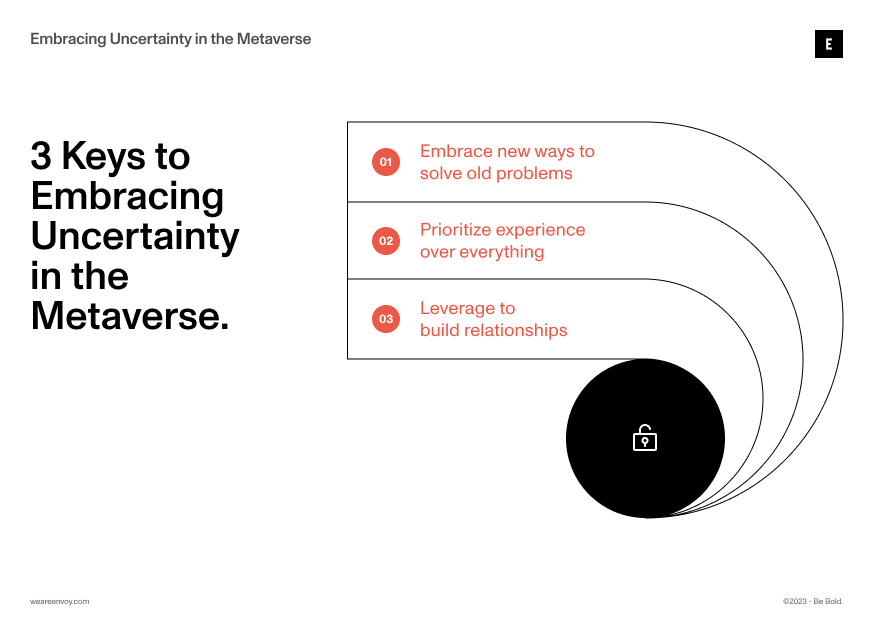 Pushing beyond traditional brand awareness metrics like awareness, the metaverse also offers brands the chance to unlock completely new value. As we like to say, creativity in the metaverse is UGC on steroids. It's unbounded by social media's limitations and it's wide open for anyone, anywhere to contribute. 
Which leaves an important question to help reframe the value of the metaverse to your brand. What if your brand had a tool that created highly interactive, deeply personalized, and technologically unlimited experiences for your consumers? What would you create?
Interested in exploring new ways to think about your brand or business? Contact us at engage@weareenvoy.com or follow us on LinkedIn